Stefania Pizzimenti
Associate Professor
SSD: MED/04 - experimental medicine and pathophysiology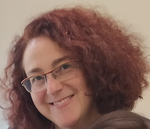 Contacts
0116707792
Università di Torino
Departimento di Scienze Cliniche e Biologiches
Unità di Medicina Sperimentale e Patologia Clinica
Corso Raffaello 30, 10125 Torino, Italia
****************
University of Turin
Department of Clinical and Biological Sciences
Experimental Medicine and Clinical Pathology Unit
Corso Raffaello 30, 10125 Torino, Italy
At
Dipartimento di Scienze Cliniche e Biologiche
Corso di Laurea in Infermieristica Pediatrica
Corso di laurea in Logopedia
Corso di laurea in Ortottica ed Assistenza Oftalmologica
Corso di Laurea in Terapia della Neuro e Psicomotricità dell'Età Evolutiva
Corso di Laurea Magistrale in Biotecnologie Mediche - Classe LM-9
Laurea Magistrale in Medicina e Chirurgia - sede di Torino
Master di I livello in Comunicazione della Scienza
PhD Programme in Experimental Medicine and Therapy - Dottorato in Medicina e Terapia Sperimentale
Curriculum vitae
Curriculum Vitae (0.7 MB)
Selected research products
Azzimonti B, Ballacchino C, Zanetta P, Cucci MA, Monge C, Grattarola M, Dianzani C, Barrera G, Pizzimenti S. (2023) Microbiota, Oxidative Stress, and Skin Cancer: An Unexpected Triangle. Antioxidants (Basel, Switzerland) 12(3) [DOI PMID]
Argenziano M, Bessone F, Dianzani C, Cucci MA, Grattarola M, Pizzimenti S, Cavalli R. (2022) Ultrasound-Responsive Nrf2-Targeting siRNA-Loaded Nanobubbles for Enhancing the Treatment of Melanoma. Pharmaceutics 14(2) [DOI PMID]
Pizzimenti S, Ribero S, Cucci MA, Grattarola M, Monge C, Dianzani C, Barrera G, Muzio G. (2021) Oxidative Stress-Related Mechanisms in Melanoma and in the Acquired Resistance to Targeted Therapies. Antioxidants (Basel, Switzerland) 10(12) [DOI PMID]
Barrera G, Cucci MA, Grattarola M, Dianzani C, Muzio G, Pizzimenti S. (2021) Control of Oxidative Stress in Cancer Chemoresistance: Spotlight on Nrf2 Role. Antioxidants (Basel, Switzerland) 10(4) [DOI PMID]
Ambrosio L, Argenziano M, Cucci MA, Grattarola M, de Graaf IAM, Dianzani C, Barrera G, Sanchez Nieves J, Gomez R, Cavalli R, Pizzimenti S. (2020) Carbosilane Dendrimers Loaded with siRNA Targeting Nrf2 as a Tool to Overcome Cisplatin Chemoresistance in Bladder Cancer Cells. Antioxidants (Basel, Switzerland) 9(10) [DOI PMID]
Cucci MA, Grattarola M, Dianzani C, Damia G, Ricci F, Roetto A, Trotta F, Barrera G, Pizzimenti S. (2020) Ailanthone increases oxidative stress in CDDP-resistant ovarian and bladder cancer cells by inhibiting of Nrf2 and YAP expression through a post-translational mechanism. Free radical biology & medicine 150 125-135 [DOI PMID]
Cucci MA, Compagnone A, Daga M, Grattarola M, Ullio C, Roetto A, Palmieri A, Rosa AC, Argenziano M, Cavalli R, Simile MM, Pascale RM, Dianzani C, Barrera G, Pizzimenti S. (2019) Post-translational inhibition of YAP oncogene expression by 4-hydroxynonenal in bladder cancer cells. Free radical biology & medicine 141 205-219 [DOI PMID]
Research topics
Attività scientifica

Mi occupo da molti anni della relazione tra stress ossidativo e cancro.

In particolare i miei principali temi di ricerca sono:
il ruolo dei prodotti della perossidazione lipidica, indotta dallo stress ossidativo, nel controllo della progressione tumorale (PEROSSIDAZIONE LIPIDICA E CANCRO);
utilizzo di nanoparticelle veicolanti farmaci chemioterapici con azione pro-ossidanti oppure nanoparticelle sensibili allo stato redox per il trattamento del cancro (STRESS OSSIDATIVO, NANOMEDICINA E TUMORI)
Studio delle vie di segnalazione cellulare (es. Nrf2) capaci di controllare i livelli di stress ossidativo cellulare e coinvolte nel processo di progressione tumorale, inclusa la chemioresistenza (STRESS OSSIDATIVO E CHEMIORESISTENZA).
Attività di Public Engagement

Nel 2022-23 ho coordinato il progetto di public engagement VICINI del Dip. di Scienze Cliniche e Biologiche. https://www.dscb.unito.it/do/home.pl/View?doc=/Terza_missione/Public_engagement/eventi/Eventi_pubblici/VICINI_Le_radici_del_futuro.html

Scientific activity

My research activity is concerned with the relationship between oxidative stress and cancer.

In particular, my research topics are:
the role of products of lipid peroxidation, elicited by oxidative stress, in controlling tumor progression (LIPID PEROXIDATION AND CANCER);
enhancing the effects of pro-oxidant chemotherapic drugs when loaded into nanoparticles; use of redox-sensitive nanoparticles in cancer treatment (OXIDATIVE STRESS, NANOMEDICINE AND CANCER);
targeting redox signaling pathways (i.e., Nrf2) involved in cancer progression, including chemoresistance (OXIDATIVE STRESS AND CHEMORESISTANCE).
Public Engagement activity

In 2022-23 I coordinated the public engagement project VICINI of the Department of Clinical and Biological Sciences.

https://www.dscb.unito.it/do/home.pl/View?doc=/Terza_missione/Public_engagement/eventi/Eventi_pubblici/VICINI_Le_radici_del_futuro.html
Research groups
Research projects
Activities in agenda
Academic bodies
Academic positions pro-tempore
Membro della Commissione Monitoraggio e Riesame e della Commissione Didattica con potere deliberante del Corso di Studi in Terapia della Neuro e Psicomotricità dell'Età Evolutiva
Office hours
Sono disponibile su appuntamento / For live appointments contact me
Tel. +39-011-6707792
E-mail: stefania.pizzimenti@unito.it


Referente per la Disabilità del Dipartimento di Scienze Cliniche e Biologiche